And we thought the love affair was over...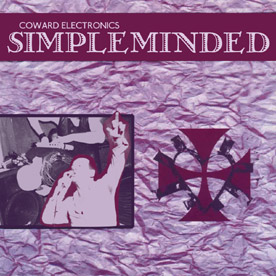 COWARD ELECTRONICS • SIMPLEMINDED


Featuring members of Cock E.S.P. and Rotten Piece, as well as guest appearances by members of Concrete Violin and Faggot, the first Coward Electronics release in four years is a tribute honoring two exceptional musical groups.
Bloodyminded is the godfather of comedic/absrudist noise who have, since the early 1990's, neatly and brilliantly trimmed the irony and extremism of power-electronics pioneers such as Whitehouse and Consumer Electronics, leaving only a deliciously overblown minimalist parody, impossible to take seriously.
Simple Minds has cleverly sent up a series of rock genres over their 30 year history, from three-chord punk rock to mildly off-center new wave to 80's pop stardom to, finally, christian contemporary music - each time providing a brave and precise mockery of their peers and themselves.
As a study in both the similarities and differences between these two approaches to parody, "Simpleminded" achieves it's goal by presenting Simple Minds-inspired lyrics in a Bloodyminded musical style. Such an approach truly realizes it's premise as these two artistic groups share so much more in common than the usual mix of genres - ragtime mash-ups of Eminem and black metal versions of Britney Spears songs being two examples. A wonderful achievement by Coward Electronics, an ensemble which releases albums far too infrequently.
Maybe we need to step up our production, a bit. Parodies and tributes seem to be overtaking our discography...