ANATOMY OF HABIT: Invisible Oranges Premieres "Black Openings" From Experimental Post-Punk/Doom Collective; LP Nears Release + Band To Play Record Release Show This Saturday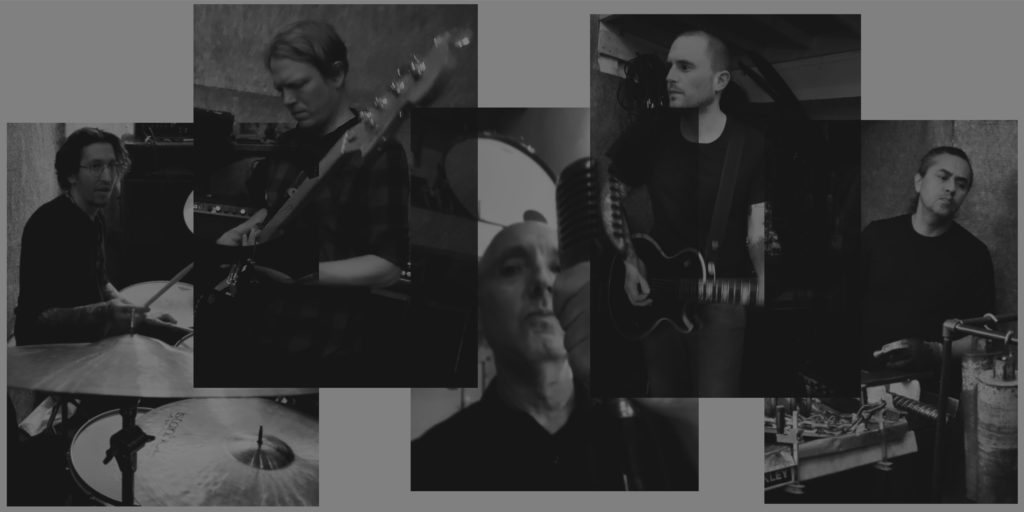 Invisible Oranges is currently streaming "Black Openings" from long-running experimental post-punk/doom collective ANATOMY OF HABIT. The track comes by way of the band's fourth full-length of the same name, set to drop February 24th.
Elaborates vocalist Mark Solotroff, "'Black Openings' is the opening song, as well as the title track, of our new album. It could easily be a closing track, as its journey towards obliteration takes some of my more recent writing to a dreadful new space. This location is a terminus point. It's a literal dead end. It's a black hole. When we were composing the song in our practice space, I had a very cinematic image in mind of a life passing by in both forward and reverse order and crossing or maybe even crossfading, along the way. I wanted the song to progress to a point where it becomes a beckoning aperture, like a great mouth, which opens up and swallows you as you float into it. You're in control of this trajectory, though. You made the decision. You are bound to the consequences. If it's not already obvious to people who know our music, I have a thing for these long pieces that take up one side of a record. While the song 'Then Window' from Ciphers + Axioms blasts out into the atmosphere at the halfway point, this storyline resolves itself in a much different manner. The song starts out calmer, as the first section builds its way towards that crossfade, an undulating impressionistic instrumental segment, which then gives way to a mounting slab of colossal substance. In a live setting the song can go on and on and on. It can last as long as I last. It expires when I expire."
Adds Invisible Oranges, "It's power that truly defines the ANATOMY OF HABIT sound across time and personnel changes, and 'Black Openings'' own muscular sound, appended by junk percussionist Isidro Reyes' rhythmic counterpoint with Rowe's heavy pulsing and guitarist Alex Latus' slack-tuned atmospheres, truly shines as one of Chicago's finest active live acts."
Stream ANATOMY OF HABIT's "Black Openings" HERE.
Thematically, Black Openings continues to elaborate on Solotroff's expressions of love and loss, the abstracted and vanishing self, and complexities within the creative process. It further explores the concept of obliteration, and it propels the idea to a dreadful new terminus point. The concept of the inner drive that keeps pushing a person forward, which Solotroff explored on Even If It Takes A Lifetime takes on a new meaning here, when the harrowing black hole of the title track opens up and swallows you.
Black Openings was recorded with Sanford Parker, who has been working with the band in the studio for over a decade, including on their 2014 Relapse Records-issued Ciphers + Axioms. Parker also handled mixing duties while Collin Jordan (Boiler Room Mastering) took care of mastering.
Black Openings, which comes adorned in the artwork of Solotroff, will be released on CD, LP, cassette, and digitally. Find preorders at THIS LOCATION where first single, "Breathing Through Bones," can be streamed.
ANATOMY OF HABIT will celebrate the release of Black Openings with a record release show this Saturday, February 11th at Cobra Lounge in Chicago with additional performances to be announced in the weeks to come.
ANATOMY OF HABIT:
2/11/2023 Cobra Lounge – Chicago, IL * Record Release Show w/ Kill Scenes, Twice Dark [tickets]
Formed in Chicago in 2008, ANATOMY OF HABIT has been described as a hybrid of doom metal, post-punk, death-rock, early-industrial, psychedelic, and shoegaze. Although they've experienced significant membership changes since forming, today's band, which includes Alex Latus (guitar), Isidro Reyes (metal percussion), Skyler Rowe (drums), Mark Solotroff (vocals), and Sam Wagster (bass, lap steel), represents their longest-standing and most prolific lineup. The band credits their treasured chemistry to their intertwining histories as friends and collaborators. Rowe and Latus have made music together since they were teenagers, growing up in Indianapolis' heavy music scene, while playing in the band Still. Rowe and Wagster create sweeping, pastoral instrumental music together in Mute Duo. Reyes and Solotroff are old friends who've played together for many years and they continue to record and perform in both BLOODYMINDED and The Fortieth Day. This deep connective tissue contributes to what the band describes as consistently effortless writing sessions and innately unified live performances.
"…a long, lovely journey that you can settle into, trusting that you'll be alternately unsettled, soothed, creeped out, pummeled, and exalted… Sheets of shimmering guitars appear like torrential rains, giving way to a quiet interlude and a sinister sense of ritual catharsis…" – The Chicago Reader
ANATOMY OF HABIT:
Alex Latus – guitar
Isidro Reyes – metal percussion
Skyler Rowe – drums, vibraphone
Mark Solotroff – vocals, analog synth
Sam Wagster – bass, lap steel, piano, keyboard